Solar Street Light
The solar street light uses the lens and super-bright light source integrated designed by USA bridgelux chips. The product can be installed in places where pedestrian walks, such as parking lots, sidewalks, and residential paths, and it is also suitable for family use. The integrated solar street light combines the high-efficient solar panel, long service time li-battery, high light efficiency led, intelligent controller, infrared human detective module and theftproof installation support together.
Specifications of 5w solar led street light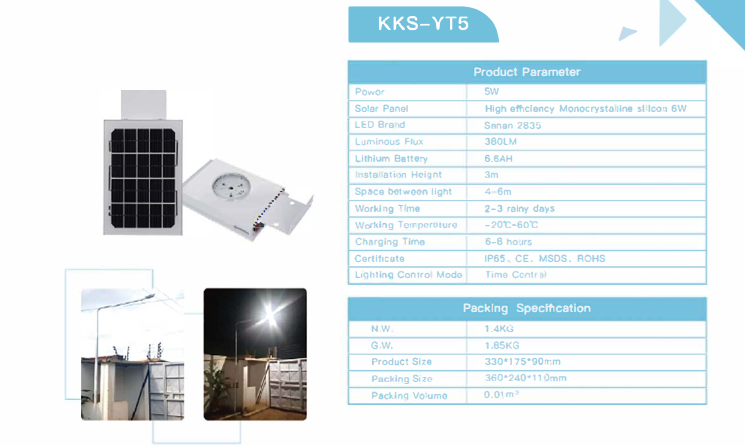 Features of aluminum alloy solar street light:
1. Patent integrated design, wiring-free, easy installation, concise and fashionable outlook, safety and light, economic and practical;
2. The main body of the street light is made of aluminium alloy, which has good performance in anti-corrosion;
3. Infrared human detective, within the scope of 10 to 15 meters, adjust brightness intelligently to save energy and prolong the service time;
4. Lithium iron phosphate battery, low-resistance, can work in the temperature of -20-60°C, with longer service time;
5. Water-proof construction, safety and reliability.
Application of aluminum alloy solar street light:
Provide illumination for various streets, auxiliary roads, paths of residential areas, courtyard, mine areas, parks, parking lots and rural areas.