SG320 Solar Water Pump Inverter For 3 Phase 380V/440V AC Pumps
Fully automatic system using variable speed drive compatible with AC, 3-phase, submersible and surface mount pumps, and high efficiency
PMSM
Pumps. The system is composed of a PV generator, a pump and a solar pump drive. Based on the design philosophy that it is more efficient to store water rather than electricity, there is no energy storing device such as storage battery in the system. The system is prepared to be combined with a elevated water storage, e.g. water tower or an uphill tank installation.SS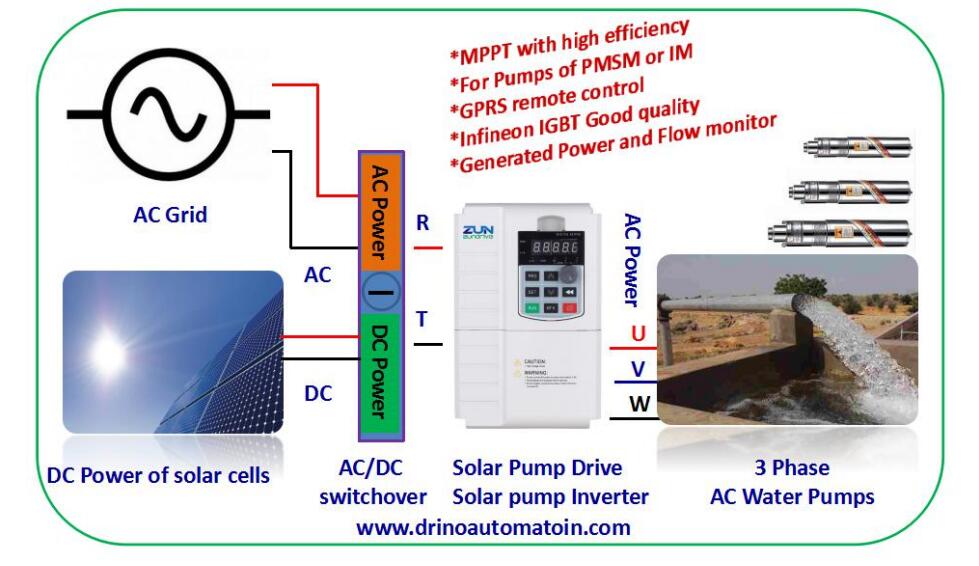 Drino Sung great Mini Solar Pump Inverter Models list:
Model
Input voltage
Output for pumps
Power
Pictures

SG320-0K7GB-4T




SG320-1K5GB-4T




SG320-2K2GB-4T




SG320-4K0GB-4T




SG320-5K5GB-4T




SG320-7K5GB-4T




SG320-011GB-4T




SG320-015GB-4T

250 to 800VDC
Or 380 to 460VAC
3 PH 0 to

380V

/460VAC
0.75kw,2.5A
1.5kw, 3.7A
2.2kw, 5.0A
4.0kw, 10A
5.5kw, 13A
7.5kw, 17A
11kw, 23A
15kw, 30A
Zundrive solar pump inverter system Presentation
Zundrive Solar Water Pumping Solution is a fully automatic system designed to provide water at affordable cost for people with limited or no access to electricity. It uses the most advanced S300/3200 variable speed drive to regulate the speed of a 3-phase AC motor depending upon the solar energy available from the solar panel.

How does it work ?
An arrays of solar panels generates the power and voltage required for the SG300/3200 Solar inverter to drive the motor. The solar drive converts the DC voltage input to a 3-phase AC output with variable voltage and frequency. The MPPT algorithm of solar drive extracts maximum power available from the solar panels during the day and operates the motor at variable speed based on the power input to the drive. The frequency range in which the drive operates depends upon the motor speed, hydraulic system and the power available from the solar panel. As the sunshine varies during the day, power input to the drive varies and the Solar drive generates variable V/F ratio thus controlling the speed of the motor, which in turn regulates the pump impeller speed. Water Level Sensor is used only when the water is pumped to overhead tank.
Benefits
• Pumping of water in for irrigation for drinking water supply in off grid areas, easy installation.
• Farmer can cultivate multiple crops through out the year in off grid areas
• Farmer can save their time spent in collecting and transporting water.
• Lower operation expense compared to diesel pumps
• Zero emission of green house gases.
• Reduced load on national grid.
Applications
Irrigation of land, domestic water supply, fish farming, livestock, swimming pool, fountain, drip irrigation & sprinkler, industrial application, swimming pool…
Features of solar pumping system
Low carbon economy
With utilization of solar pump Drino inverters helps you in reducing your carbon
footprint.
Reduce CO2 releasing.
Renewable solution
In-built MPPT
Maximum power point tracking ensures that you get the most power output possible from your solar panel and maximize your pump delivery throughout the day.
Pump specific protection
Inbuilt flow measurement and flow detection function. Inverter turns off in case of dry run.
Built in pumps short circuit protection, maximum pumps current setting,
Remote monitoring
With the addition of optional modules you can monitor solar pump parameters from
Anywhere when GPRS signal is available
Drino solar pump drive main Features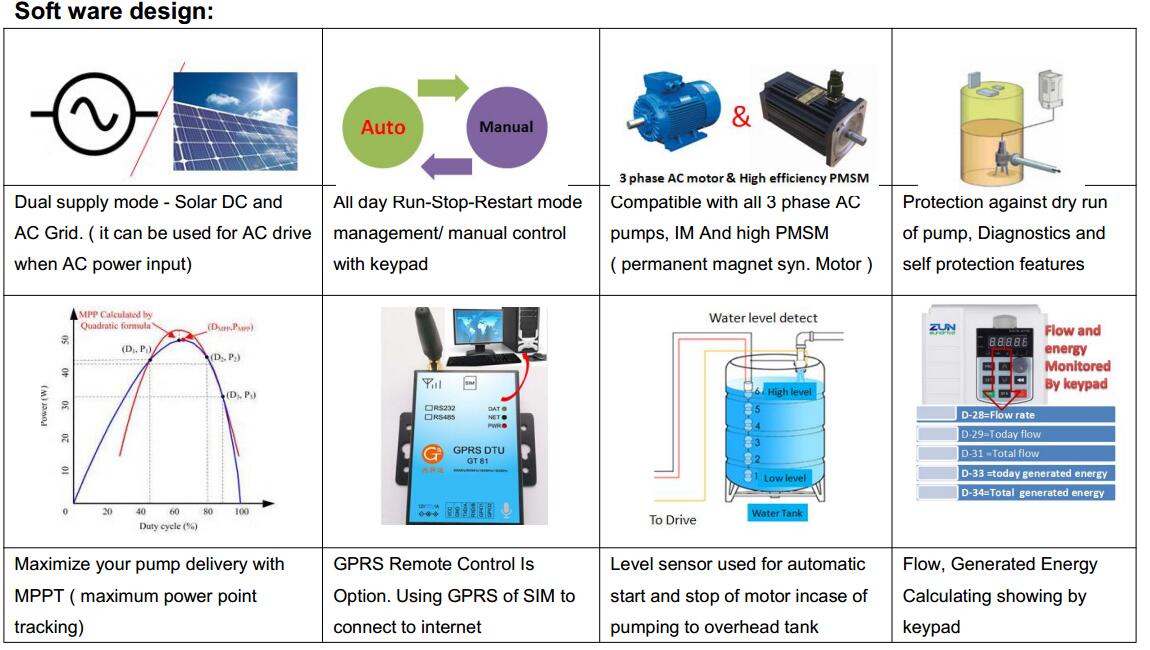 Solar Pump Inverter Hardware designS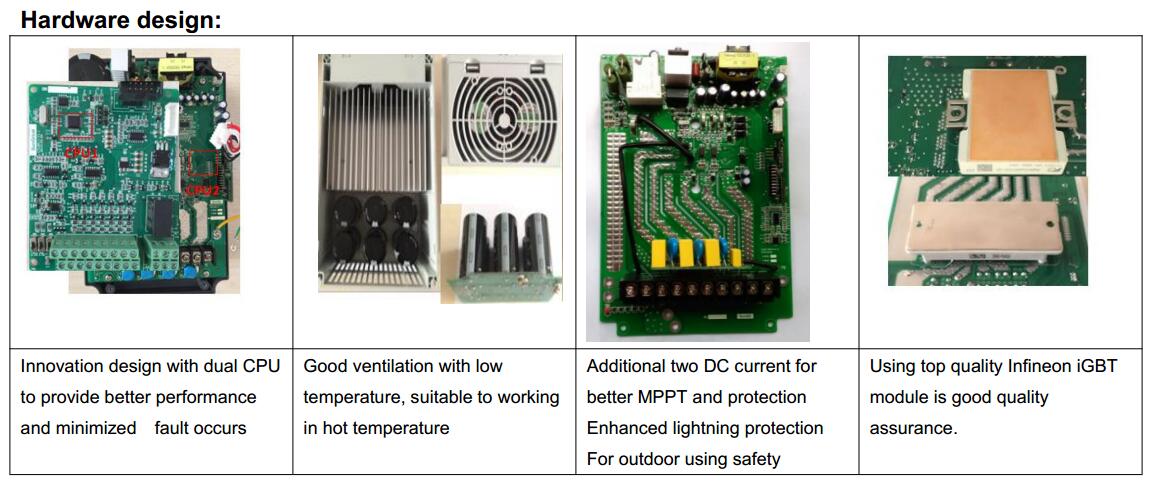 DRINO SUN GREAT Models specification: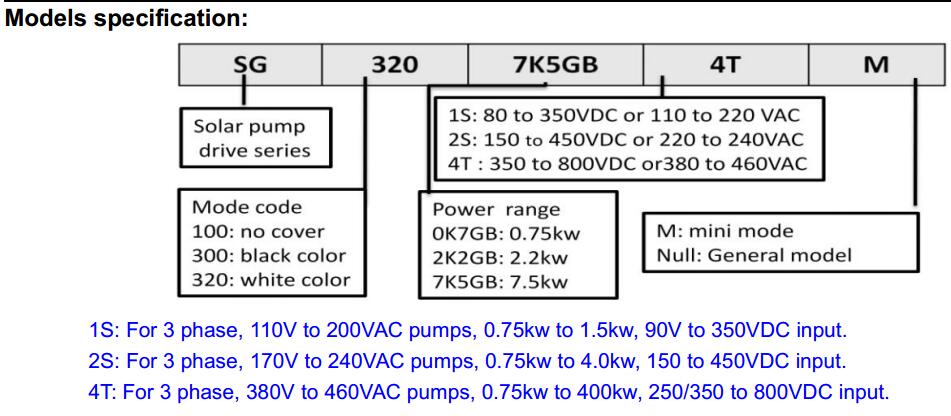 Technical specification:
**Solar pump drive specification when FA-00 set to 1&2 (CVT or MPPT) for solar pumping controlling function.
Recommended MPPT voltage range
Vmpp 131 to 350 VDC for 1S (80V to 350VDC input, 3PH 110 to 220VAC output)
Vmpp 280 to 375VDC for 2S ( 150V to 450VDC input, 3PH 220 to 240VAC output)
Vmpp 486 to 750 VDC for 4T ( 350V to 800VDC input, 3PH 380 to 460VAC output)
Recommended input Voc and Vmpp voltage
Voc 180(VDC), Vmpp 155(VDC) for 1S model or 110V AC pumps
Voc 355(VDC), Vmpp 310(VDC) for 2S model or 220V AC pumps
Voc 621(VDC), Vmpp 540(VDC) for 4T model or 380V AC pumps
Motor type
Control for permanent magnet synchronous motor and asynchronous motor pumps.
Rated output voltage
3-Phase,110V/160V/220V. 3-phase, 220V/380V/460V
Output frequency range
0~maximum frequency 600Hz.
MPPT efficiency
97%,
Ambient temperature range
G-type for submersible pumps, 150% rated current for 60s, 180% rated current for 2s
P type for general pumps, 120% rated current for 60s, 150% rated current for 2s
Solar pump control special performance
MPPT ( maximum power point tracking), CVT (constant voltage tracking), auto/manual operation, dry run protection, low stop frequency protection, minimum power input, motor maximum current protection, flow calculating, energy generated calculating and water tank level detected
Protection function
Phase loss protection, phase short circuit protection, ground to phase circuit protection , input and output short circuit protection. Stall protection
Protection degree
IP20, Air force cooling
Running mode
MPPT or CVT
Altitude
Below 1000m; above 1000m, derated 1% for every additional 100m.
Standard
AC input backup circuit
CE, Design based on vector control drive S300 and S3200 series, more specification please refer to S300 or S320 vector control drive operation manual
Technical specification when it used for speed and torque controlling of motor as FA00 set to 0.
voltage, frequency
Single phase 220V, 3 phase, 220V,380V, 660V and 1140V.
Power 0.75kw to 37kw.
Control mode
0: VF control ; 1: Vectorized VF control ; 2:Open loop vector control 1 ; 3: High performance open loop vector control 2
Maximum frequency
0-650Hz
Multi-functions
PID Control, Carrier Frequency Adjustable, Current Limiter, Speed Search, Momentary Power Loss Restart,16 Step Speed (Max), 3-Wire connection, Slip Compensation, Frequency Jump, DC braking, Upper/Lower Frequency, Torque control, Compatible for PMSM and IM, built in RS485, counting, fault information checking, fully fault protection function, frequency combination reference.
User also can use SG series solar pump inverter for general purpose inverter using when Fa00=0.
But Fa, Fb, Fc parameters can't be activated.
Models specification
SN
Models
Rate current

Output voltage ( 3PH VAC)
Applicable for pumps
External of drive size(mm)
MPPT voltage (VDC)
Weight
(kgs)
Mini type 2S series : 150 to 400 VDC or 200 to 240VAC input, (MPPT 280 to 375VDC)
1
SG100-0K75GB-2S-N
4A
220V/240V
0.75KW
170*110*70
260 to 375
1.0
2
SG320-0K75GB-2S-M
4A
220V/240V
0.75KW
143*86*114
260 to 375
1.5
3
SG320-1K5GB-2S-M
7A
220V/240V
1.5KW
143*86*114
260 to 375
1.5
Mini type 4T series : 350 to 800 VDC or 380 to 460 VAC (MPPT 486 to 750VDC)
4
SG320-0K7GB-4T-M
2.5A
380V-440V
0.75KW
143*86*114
486 to 750
1.5
5
SG320-1K5GB-4T-M
3.7A
380V-440V
1.5KW
143*86*114
486 to 750
1.5
6
SG320-2K2GB-4T-M
5A
380V-440V
2.2KW
143*86*114
486 to 750
1.5
General type 2S series : 150 to 450 V DC or 200 to 240 VAC input, (MPPT 280 to 375VDC)
7
SG320-0K7GB-2S
4A
220V/240V
0.75KW
185*125*159
260 to 375
2.0
8
SG320-1K5GB-2S
7A
220V/240V
1.5KW
185*125*159
260 to 375
2.0
9
SG320-2K2GB-2S
10A
220V/240V
2.2KW
185*125*159
260 to 375
2.5
10
SG320-4K0GB-2S
16A
220V/240V
4.0KW
245*150*177
260 to 375
3.5
General type 4T series : 350 to 800 VDC or 380 to 460VAC input, (MPPT 486 to 750VDC)
11
SG320-0K7GB-4T
2.5A
380V-440V
0.75KW
185*125*159
486 to 750
2
12
SG320-1K5GB-4T
3.7A
380V-440V
1.5KW
185*125*159
486 to 750
2
13
SG320-2K2GB-4T
5A
380V-440V
2.2KW
185*125*159
486 to 750
2
14
SG320-4K0GB-4T
10A
380V-440V
4.0KW
185*125*159
486 to 750
2.5
15
SG320-5K5GB-4T
13A
380V-440V
5.5KW
245*150*177
486 to 750
3.5
16
SG320-7K5GB-4T
17A
380V-440V
7.5KW
245*150*177
486 to 750
4
17
SG320-011GB-4T
22A
380V-440V
11KW
247*160*178
486 to 750
5
18
SG320-015GB-4T
30A
380V-440V
15KW
247*160*178
486 to 750
5
19
SG320-018GB-4T
37A
380V-440V
18KW
335*217*190
486 to 750
10
20
SG320-022GB-4T
45A
380V-440V
22KW
335*217*190
486 to 750
18
21
SG320-030GB-4T
60A
380V-440V
30KW
432*285*225
486 to 750
18
22
SG320-037GB-4T
75A
380V-440V
37KW
432*285*225
486 to 750
29
23
SG320-045GB-4T
90A
380V-440V
45KW
600*385*270
486 to 750
29
24
SG320-055GB-4T
110A
380V-440V
55KW
600*385*270
486 to 750
29
25
SG320-075GB-4T
150A
380V-440V
75KW
700*473*307
486 to 750
43
26
SG320-090GB-4T
180A
380V-440V
90KW
700*473*307
486 to 750
47
27
SG320-110GB-4T
220A
380V-440V
110KW
930*579*375
486 to 750
90
28
SG320-132GB-4T
260A
380V-440V
132KW
930*579*375
486 to 750
100
29
SG320-160GB-4T
320A
380V-440V
160kw
930*579*375
86 to 750
130
System connection and commissioning.
An enhanced version of AC Drive ( variable speed drive of motor speed and torque control), compatible with DC power and AC grid input.
Note*: Only allow one power source input at a time.
1. Connect DC power Positive ( P ) and Negative ( N ) terminals to input R, T terminals of drive.
2. Connect output U, V, W terminals of drive to 3 phase AC pumps. ( Not drive for DC pumps and Single AC pumps).
3.Connect water level sensor to drive if need water tank level detecting.
4.Connect remote controller GPRS module ( option) if need remote monitor controlling function.
5. IP54 solar pump drive cabinet customization make is available including( AC/DC switchover, AC and DC breaker..)
Easy installation and commissioning.
1.Total Voc (open loop circuit )voltage input from solar arrays should be large than
1.15 times
of Vmpp of drives.
For example: For 4T series, recommend 540V*1.15=621V; For 2S series, recommend 311*1.15=357V. (Voc)
2.The selecting power of solar arrays need large than
1.3 times
power of total pumps.
For example, 0.9kw above for 0.75kw pumps, 2.86kw above for 2.2kw pumps.
Commissioning steps.(
Please wait 30s after switching on for
initialization
GPRS remote control (optional)
Functions of GPRS module establishing
1. Working Status Monitoring;
2. Inverter Control and parameters review and modify
3. Positioning can see where the solar pump system working
4. History Data Record, possible record 3 months working data of system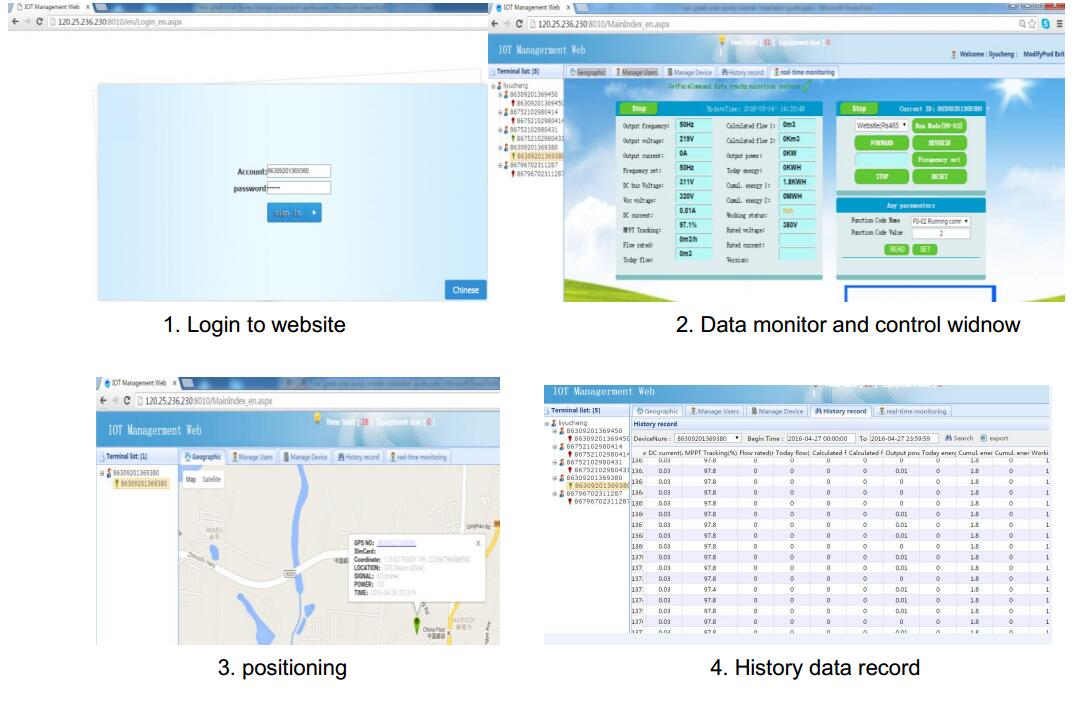 Appendix I.
A 160kw, solar pump inverter is working good in Lebanon.
It can started working at 9:30 with above 40Hz, and stopped working at 17:00 with above 40Hz.
Because customer need pump don't work when output frequency is less than 40Hz.